Lazy Lake Apple Repairs - Store Directions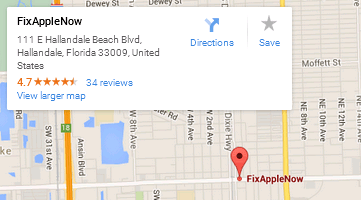 At Fix Apple Now, we have tried to make it as easy as possible for our customers to have their Apple devices, Android devices and PCs repaired by our highly experienced technicians.
Below you can find driving directions from Google Maps to help you get from Lazy Lake to your nearest Fix Apple Now store, situated in Hallandale. You can either copy the driving instructions below or click here for a larger map and driving directions.
Alternatively, if you do not have the time or don't want to drive to your local Fix Apple Now store, we operate a mail in repair service where you can post your faulty tech items to us to fix for you. Once repaired, we can mail them back to you.
Apple repairs for Lazy Lake residents
Do you need to fix your iPhone 4,5 or 6, iPad, iMac, MacBook Air, MacBook Pro,
iPod
or Apple Mac in Lazy Lake? If so, talk to Fix Apple Now today. We can deliver the outstanding service that you've been looking for and can return your Apple device to its former glory for less. Talk to us today if you need a fix for your Apple device to solve a problem such as boot loop, apps crashing, a frozen screen, an iPhone 6 not charging, a device failing to switch on or off or enlarged apps. We have years of experience to draw upon when it comes to fixing Apple devices, so why not get in contact today? We deliver more for less.
A service of excellence
We always strive to fix your device at the earliest opportunity so you don't need to be without your cherished device for more than a few days. Why not get in touch right now if you need to fix your iPhone in Lazy Lake?
Driving Directions
Start: Lazy Lake, FL
Get on I-95 S in Oakland Park from N Andrews Ave and W Oakland Park Blvd (2.1 mi)
Follow I-95 S to FL-858 E/W Hallandale Beach Blvd in Pembroke Park.
Take exit 18 from I-95 S (12.8 mi)
Drive to E Hallandale Beach Blvd in Hallandale Beach (1.5 mi)
Finish: FixAppleNow - Hallandale Store
111 E Hallandale Beach Blvd,
Hallandale, FL 33009