Golden Beach Apple Repairs - Store Directions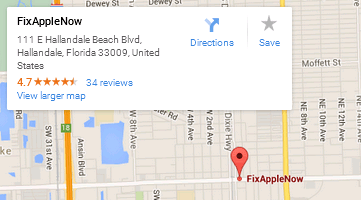 At Fix Apple Now, we have tried to make it as easy as possible for our customers to have their Apple devices, Android devices and PCs repaired by our highly experienced technicians.
Below you can find driving directions from Google Maps to help you get from Golden Beach to your nearest Fix Apple Now store, situated in Hallandale. You can either copy the driving instructions below or click here for a larger map and driving directions.
Alternatively, if you do not have the time or don't want to drive to your local Fix Apple Now store, we operate a mail in repair service where you can post your faulty tech items to us to fix for you. Once repaired, we can mail them back to you.
Bring your Apple back to life in Golden Beach
Are you experiencing problems with your
iPod
, iPad Mini, MacBook Air or Pro, Mac Mini or Apple Mac? Then why not get a great fix for a low price? At Fix Apple Now, we specialise in solving a host of issues with Apple devices including but not restricted to iPhone 6's not charging, overheating iPhones, landscape keyboards, "no SIM card" errors, music apps crashing, frozen cameras, cracked screens, problems from phones being dropped into water and devices not switching on or off. We're the team for you if you need to restore, mend, replace, change, repair or fix your broken Apple device in Golden Beach, so why not get in touch today?
Years of experience
We can offer a high-quality quick fix for your Apple device and get right to the root of the problem, reuniting you with your machine within days. There's no need to head anywhere else if you need to fix your Apple device in Golden Beach, so why not contact us right now?
Driving Directions
Start: Golden Beach, FL
Head north on Centre Is toward The Strand
Restricted usage road (479 ft)
Turn right at the 1st cross street onto The Strand
Restricted usage road (0.2 mi)
Turn left at the 2nd cross street onto Ocean Blvd (1.2 mi)
Use the left lane to merge onto FL-858 W/E Hallandale Beach Blvd toward I-95
Destination will be on the right (1.9 mi)
Finish: FixAppleNow - Hallandale Store
111 E Hallandale Beach Blvd,
Hallandale, FL 33009