Coral Gables Apple Repairs - Store Directions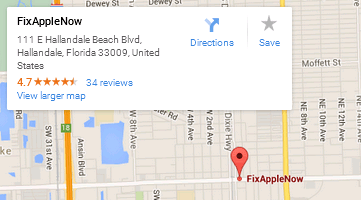 At Fix Apple Now, we have tried to make it as easy as possible for our customers to have their Apple devices, Android devices and PCs repaired by our highly experienced technicians.
Below you can find driving directions from Google Maps to help you get from Coral Gables to your nearest Fix Apple Now store, situated in Hallandale. You can either copy the driving instructions below or click here for a larger map and driving directions.
Alternatively, if you do not have the time or don't want to drive to your local Fix Apple Now store, we operate a mail in repair service where you can post your faulty tech items to us to fix for you. Once repaired, we can mail them back to you.
Find a fix for your Apple in Coral Gables
Do you need to fix, restore, replace, change, mend or reset your broken Apple device in Coral Gables? Then talk to Fix Apple Now. At Fix Apple Now, we've got years of experience to draw upon when it comes to restoring broken Apple devices to their former glory, and you can count on us to return your device to you quickly in an ideal condition. Some of the most common problems we fix include red screens, unresponsive touchscreens, Touch ID not working, bugs, random crashing, boot loop, frozen cameras and cracked screens.
A low-cost fix that works
We can fix your broken MacBook Pro, Mac Book Air, iPhone 4,5 or 6, Mac Mini, iPod, iMac or iPad Mini for less. Our engineers always get right to the root of the problem and are able to use their vast experience to solve a whole host of problems. You can get in touch with our friendly, professional team at any point if you need to fix your Apple device, so why not contact us today?
Driving Directions
Start: Coral Gables, FL
Follow U.S. 1 N to I-95 N in Miami (4.2 mi)
Follow I-95 N, I-95 Express and I-95 N to FL-858 E/Hallandale Beach Blvd in Hallandale Beach.
Take exit 18 from I-95 N (18.0 mi)
Drive to E Hallandale Beach Blvd (1.4 mi)
Finish: FixAppleNow - Hallandale Store
111 E Hallandale Beach Blvd,
Hallandale, Florida 33009